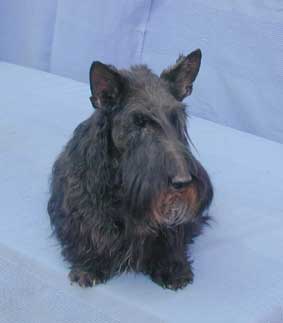 Stella was for a long time our oldest member of the team, and clearly the boss. She has always been a tough girl, telling everybody (dogs and people): don't get too close to me, I might snap (but she never really did). But she was always very convincing. A bit like her father Rio.
Stella was the only black girl in a litter with otherwise brindle boys, so we had to keep her. She is a sizable bitch, with strong body, very good forechest & angulations and a clean long head, with a little big ears. We had a good time with her in the show ring.
Stella only gave us one wonderful litter of (at that time a record) nine puppies. Obviously, she decided that that was enough and never got pregnant again.
In her early years, she was a very temperamental bitch. She could follow us riding the bike easily. Then, at the age of three, she suffered from Lyme Disease (Borreliosis) which obviously affected her joints and nervous system. From that time, she had difficulties to jump and run, but it never really changed her attitude too much, including her love of hunting.
She died with more than 14 years of age, shortly after her great-great-grand-children were born, until the very last days overseeing the pack, deciding for everybody when it is time to play or to rest. We loved our old girl very much, and everybody who met this serious and distant special character in our house will definitely remember her.